Restore balance to your dog and cat
The profound changes in the living conditions of pets – industrial food, heavy drugs – have led to a recrudescence of worrying situations: overweight, loss of appetite, itching, dull fur, sadness, joint pain, unexplained fatigue.
A fundamental balance has been broken.
For the well-being and health of our friends, the formulas of Bionature make judicious use of natural resources, the benefits of the A.N.D. *, the precious trace elements, with the traditional virtues of plants. The repetition of the health plan, during the year or according to the needs of the animal, is recommended.
The stimulation process used by Bionature comes from biodynamic techniques that ensure a better physiological integration of the active principles of plants.
*A.N.D. : Stimulated Nutritional Supplements, registered trademark
Balances
The animal organism has natural systems of defense which, to develop their full potential, must receive the specific nutritional supplements ensuring their physiological balance.
Our herbal stimulated compositions are formulated for this essential purpose.
Under these conditions, animal health is high.
These compositions are alcohol-free.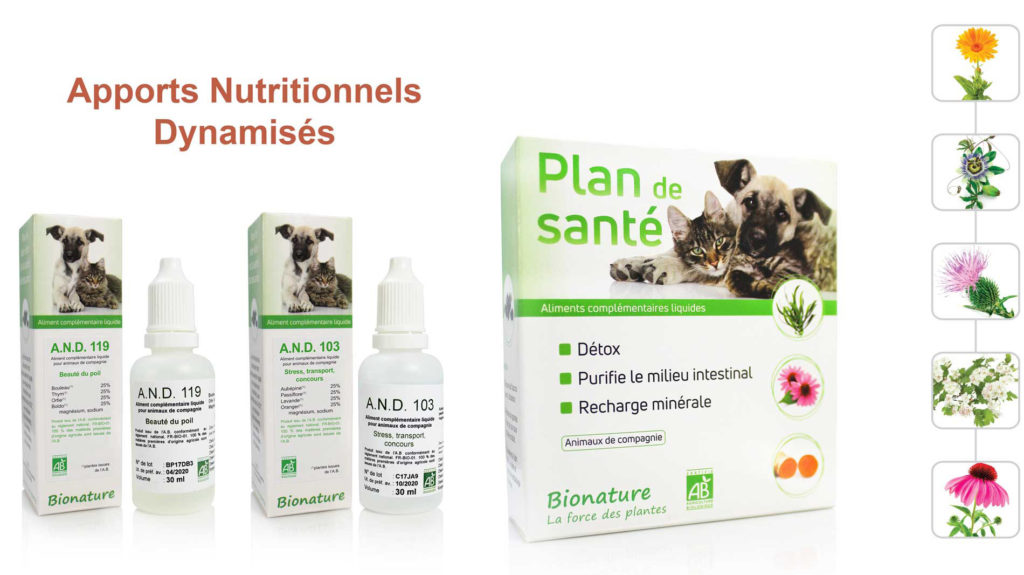 Quantities needed
For a cat, little dog, birds: Order 1 health plan
For medium or large dogs : Order 2 health plans
Number of drops : Once per day for each product for 10 days (For A.N.D. 103 for 3 to 5 days in case of stress; A.N.D. 128, for 3 days):
Puppies, kittens : 5 drops
Cats and dogs up to 10 kg : 10 drops
Dogs from 10 to 20 kg : 20 drops
Dogs from 20 kg : 1 drop per kilogram of weight
1 vial of 30 ml contains about 600 drops.
Apportionment
In the morning or evening on food or in water.
Showing all 9 results